Home
Washington Workplace Harassment Prevention

Mandatory Alcohol Server Training (MAST) Information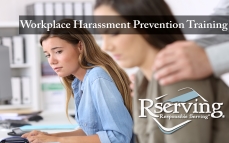 Employers
Register Here:
Sign Up - Free Employer Account
If you are an employer,
Sign up for an employer account
to purchase training for your employees:
Discount pricing for bulk orders:
0-100 courses for $3.99 each
more than 100 courses for $2.99 each
Train your employees to understand what is and what is not acceptable behavior in the workplace. This training will provide you and your employees with information about; what is considered sexual harassment, how to report sexual harassment, and explains your options for reporting workplace sexual harassment to external state and federal agencies that enforce anti-discrimination laws.
With the knowledge this training provides your employees can engage in appropriate behavior in the workplace. It is important to ensure that all individuals are provided an equal opportunity to strive in an fair and safe work place.

Sexual Harassment Prevention Training Course Objectives:
Recognizing harassment as inappropriate workplace behavior

Identifying the nature of sexual harassment

Recognizing that harassment because of any protected characteristic is prohibited

Identifying why workplace harassment is employment discrimination

Recognizing that all harassment should be reported

Recognizing that supervisors and managers have a special responsibility to report harassment
Workplace Harassment Prevention

Mandatory Alcohol Server Training (MAST) is also available through the following offer: